Parrot Class Pictures
A selection of pictures from the children's first class at St Johns.
Book Week
We had a wonderful book week with the exciting topic of Pirates. We have been reading books about the sea and created our own stories based on the book 'Billy's bucket'. We chalked our own underwater imaginary worlds onto the playground and jumped in, thinking about what we could see, hear and feel. We discovered a pirate map and enjoyed learning all about pirates. We made pirate hats, maps, messages in bottles and pirate ships in our outside area. We loved having snuggling up in our slippers and listening to Year 6 read us some stories. We also enjoyed dressing up as our favourite book characters. Can you guess who we are?
Maths Week
We have really enjoyed taking part in Maths Week and enjoying all sorts of fun and exciting Mathematical learning. One of our highlights was learning about halving, icing biscuits and decorating only half of them. Of course we ate the whole biscuit. We also really enjoyed learning how to play different board games, which helped not only our Maths learning but also helped us to work on taking turns as well. Year 3 came down at the end of the week to show us how to play the games they had made for us. We are looking forward to playing them again in our Challenge Time.
Autumn
We have really enjoyed learning about and experiencing the season of Autumn. We played in the leaves, went on an Autumn walk and used the things we collected for all sorts of art activities. We also made our own woodland scenes that we used to make up our own 'Stickman' stories.
Run for the rainforest
We had a great time learning all about the rainforest and thinking about the ways that we can look after God's wonderful world. We made lolly stick snakes, parrot masks and played rainforest bingo! We also loved meeting lots of creatures who live in the rainforest.
Dough Disco
We love dough disco, which we use to make our fingers stronger. We know that the stronger our fingers get the better our writing will be. We all enjoy singing along to the music and of course our 'baby shark' warm up song!
Where we live
We had a great time learning about where we live. We went on a walk to find out about the buildings that are near school and made maps when we came back to our classroom. We also read lots of stories about different homes. Our favourites were Goldilocks and the three bears and The three little pigs.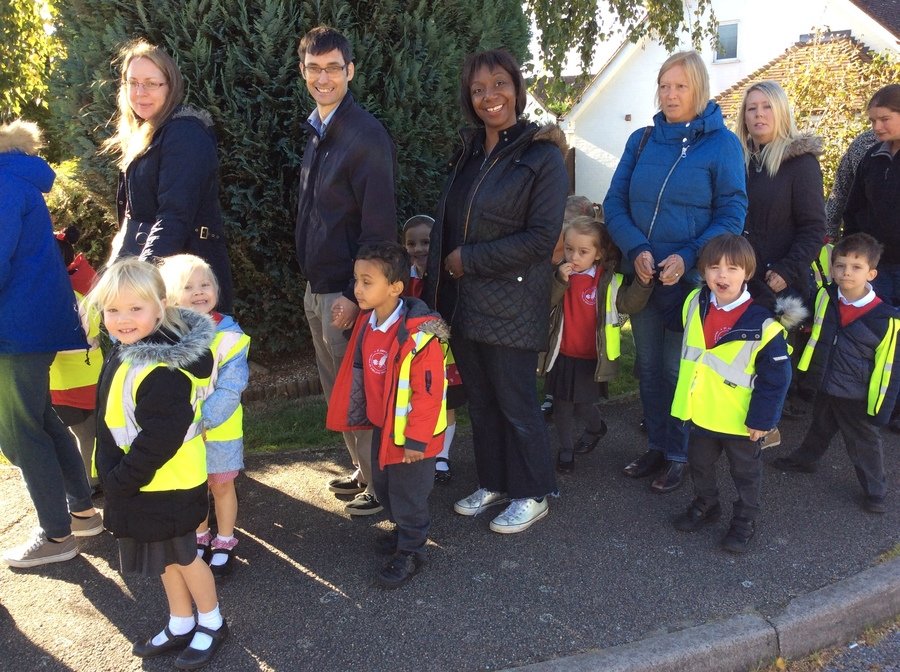 Isla's birthday
It was Isla the monkey's birthday and we organised a surprise party to celebrate. We made cakes out of play dough, decorated balloons and wrote lists of all the things we had to do. The party was great fun, especially eating our own sandwiches and biscuits we had made.
Our first week at school
We all really enjoyed our first week at school and loved exploring the classroom and making new friends! We have been learning new routines, school rules and finding out where everything is in our new environment. We have also been practising using our listening ears and doing lots and lots of careful counting.