Mini Red - Year 3&4 Tennis Tournament
On Wednesday 7th June, eight year 4 children represented St John's at the Maidstone School Games Tennis tournament. The children competed in doubles matches and played teams from three other schools. As ever, our children were remarkably well behaved and displayed excellent sportsmanship, which was even commented on by staff from the other schools. Our doubles pairs were teamed up into teams of 4 and overall we came 2nd and 5th out of 8 teams. A special mention to Sophie for stepping in at the last minute due to illness of another player! A huge congratulations and well played to Jake, Ashton, Alfie A, Sophie, Daniel G, Daniel T, Gracie and Amelia.
Miss Milsted
"On Wednesday we played in a tennis competition in Allington. We practised before we went to do the tournament and then we got started. Every match was seven minutes long and we played for about 4 hours" Daniel and Jake 4H
"The tennis tournament was amazing and such fun! We practised before we played which really helped. There were three other different schools there: Palace Wood, Tiger Primary and Greenfields. It was quite hard playing against them but we won lots of games which was good. We had a great time representing our school" Gracie and Amelia 4R
Year 5 & 6 Netball Tournament
On Tuesday 13 June myself and a team of Year 5 and 6 girls attended a netball tournament held at Greenfields Primary School. The girls played against Boughton Monchelsea, Greenfields, Eastborough and Kemsely. We won one match and narrowly missed drawing against Kemsely in the semi-final. The girls played excellently and all showed great determination against some very tricky opponents. Again, all the umpires commented on what a lovely netball team we have and how hard the girls work! Yet again both myself and Miss Milsted are very proud.
Mrs. Barnes
"On 13 June we went to Greenfields for a netball tournament. We had an excellent time playing against different schools. We played against 4 schools", Paige 6G
"The netball tournament was held at Greenfields Primary School and it was really fun. Although we didn't win overall, our netball team has improved so much over the year and we played an amazing match against Greenfields, winning 6:0. Thank you so much to Mrs Barnes for coaching us and all the parents that have supported us", Sophie 6G
"The netball match was held at Greenfields Primary School on 13 June. There were 9 schools entered, but one dropped out. Every school was very competitive and determined to win. Even though we didn't win we came 5th. Thank you to Mrs Barnes for taking us", Freya 6G
"We went to Greenfields Primary School on 13 June. It was extremely hot so it was hard to play, but we still did well and had a great time", Amelia 6G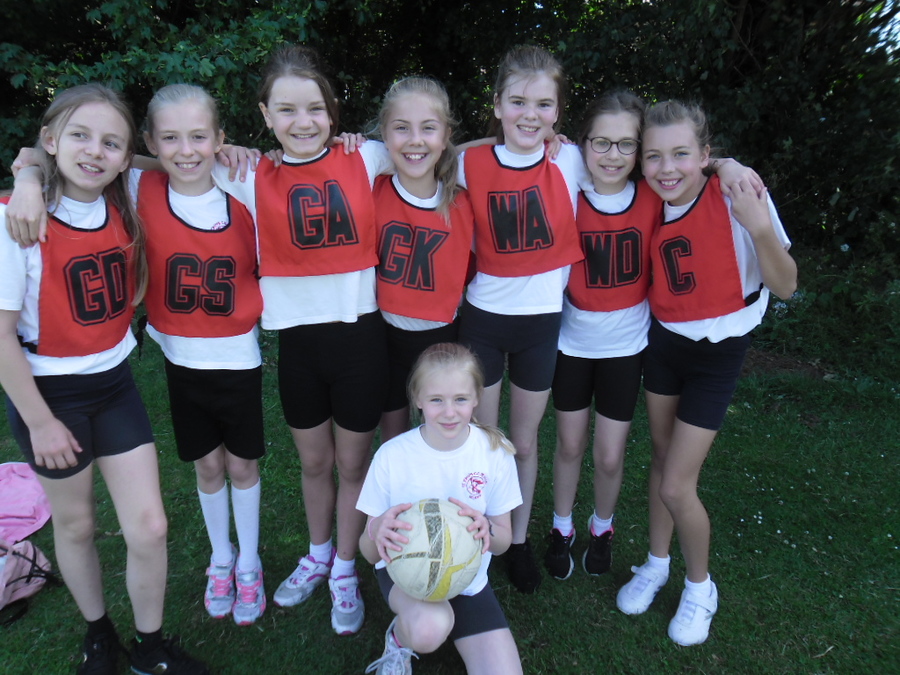 Year 5 & 6 Boys Football Tournament
On Thursday 15th June, Mr Read and I had the pleasure of taking the boys football team to the Greenfields Tournament. They played some super football to win their group and qualify for the semi-final which they won comfortably; again beating Greenfields, a team who won the Maidstone United mixed tournament earlier in the year. Unfortunately in the final our energy levels had dropped a little and we lost to East Farleigh, who we had beaten in the group stages.
The team were understandably disappointed, but picked themselves up and still smiled for the camera!
I am very proud of their achievements this year. They have really improved as a team and remain unbeaten in the league. We are yet to play the deciding matches to determine the overall Maidstone League winner. Many thanks once again to all the parents who support us at the games and help with the transport.
Mr Smith