Eco-Schools
We are working hard to become a sustainable school and achieve an Eco-School award for our efforts!
The Eco-Schools programme was developed in 1994 by the Foundation for Environmental Education (FEE) and introduced into the UK in 1995.
The programme is a learning resource and topic areas include: Energy, Litter, Waste, Transport, Healthy Living, Water, Biodiversity and Global Citizenship.
Thursday 5th October 2017 - 6.5kg Litter Collected in the Grove Green Community.
2016-2017 Academic Year Total: 48kg
Mr Smith, Miss Lebrette, Mrs Downey, Mrs Penfold, Mr Kane and Mrs Kane are all members of the Eco-Council.
Two children from each KS2 class are School and Eco-councillors.
3M - Meg & Shea
3DG - Ben & Chloe
4H - James & Racehl
4L - Brooke & Cody
5B - Gracie & Hamish
5D - Sunny & Liam
6G - Lewis & Sienna
Our efforts have been recognised by the Downs Mail!
Read the article here.
Our Eco-Council meet with Miss Lebrette once or twice a term. In our meetings we discuss what we can do at school to become more sustainable and how we plan to do this.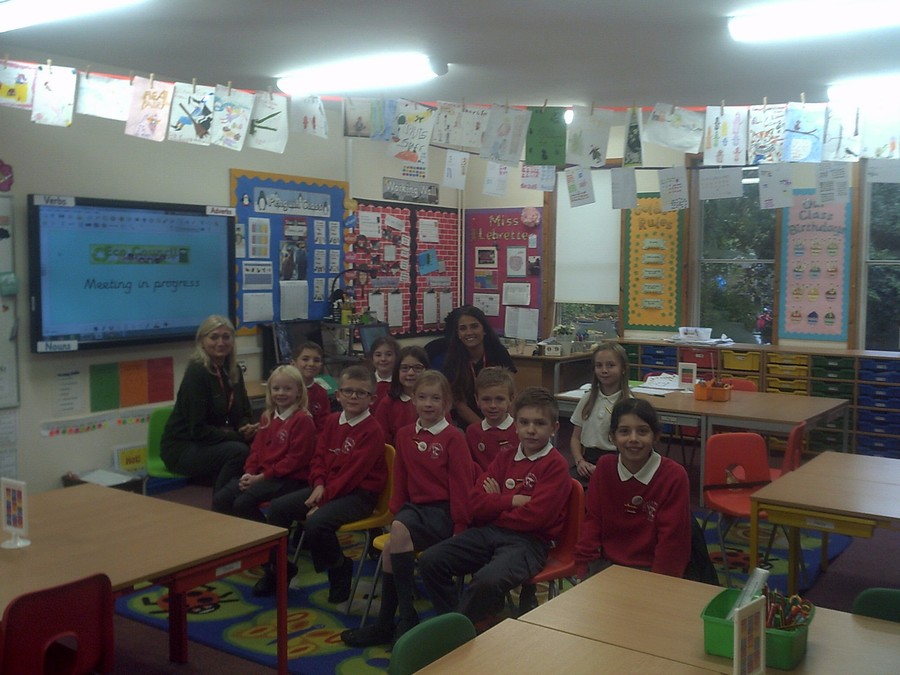 This year we are taking part in 'Switch off Fortnight' from the 14th and 27th November.
Our Eco-Councillors will be carrying out audits at lunchtime to find out where we can save energy by using less electricity. We want to make sure that, where possible, electrical items are switched off when they're not in use!
We take part in the KM's Walk On Wednesday initiate, encouraging our pupils to walk, cycle or scoot to school as often as possible. Each child has been issued with a WOW passport, where they can fix special stickers they are given every time they walk to school on a Wednesday.
We are very pleased to announce that at St John's we have been awarded the Silver Green Tree Award from the Woodland Trust. This is for our efforts to become more environmentally friendly, saving energy and taking children to visit our local woodland areas, including Vinters Valley. A representative from the Woodland Trust was particularly impressed with the pictures of animals children in Year R have created using leaves!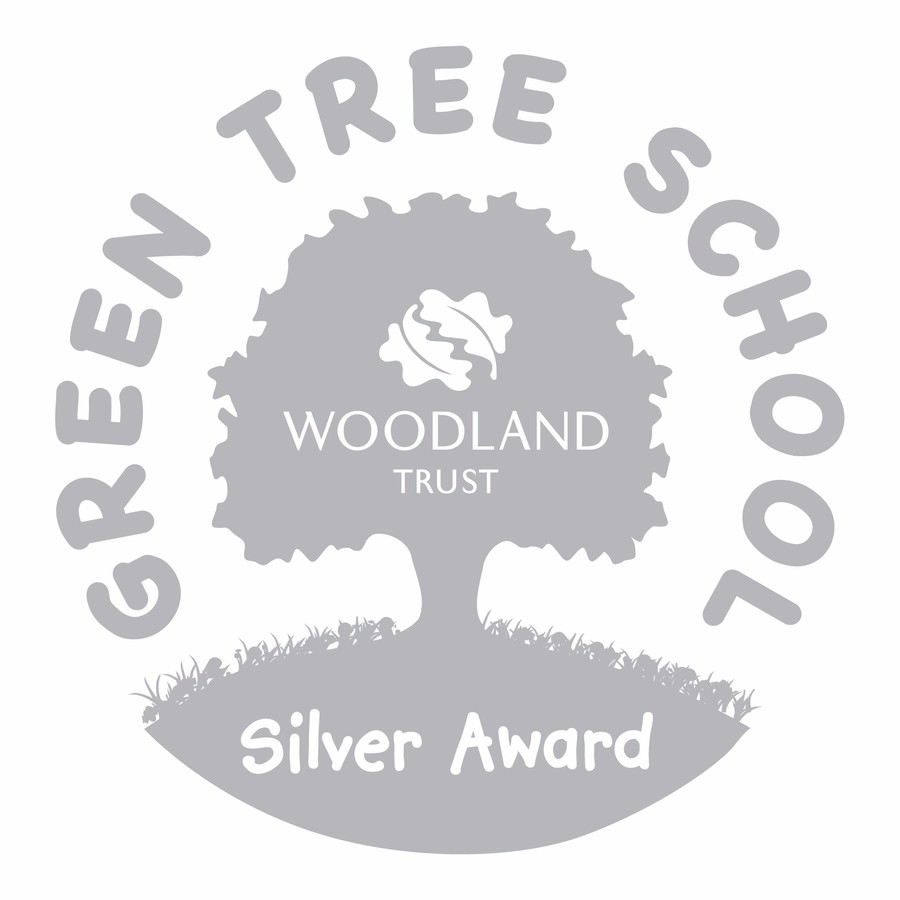 At St John's we compost some of our food waste. To remind children to put their apple cores and orange peels in the compost Ameila and James from 4R designed posters for our rubbish bins.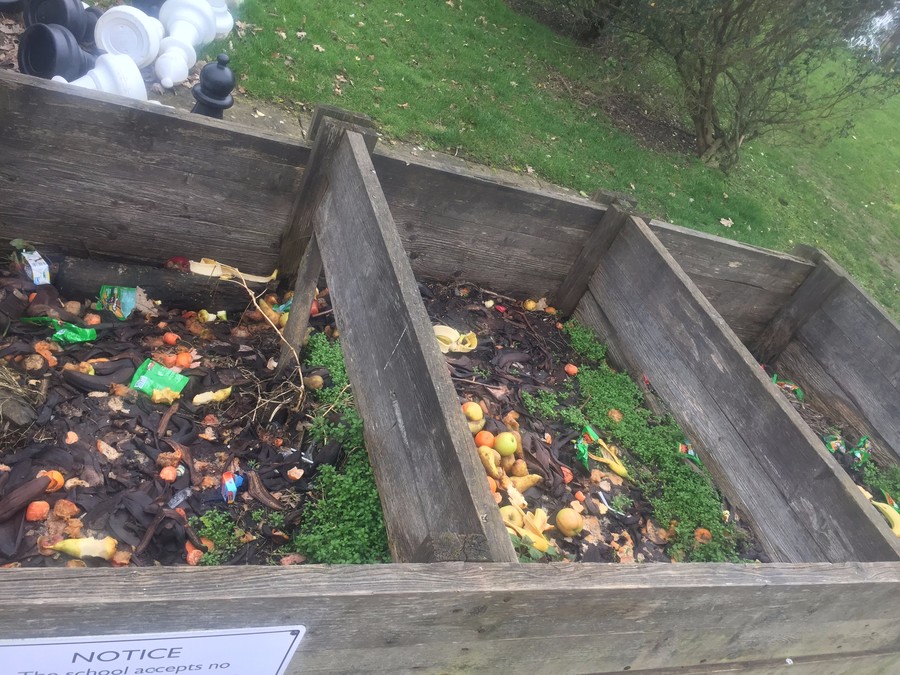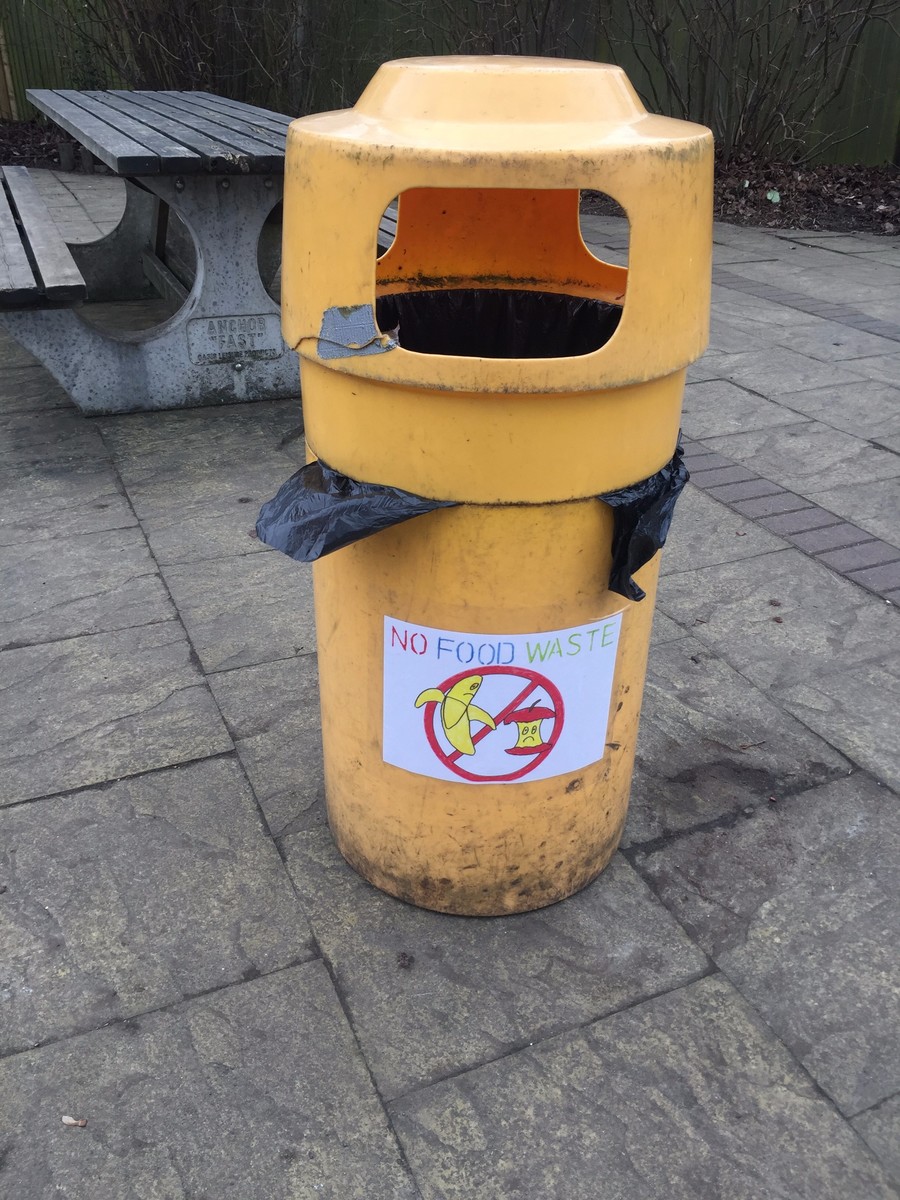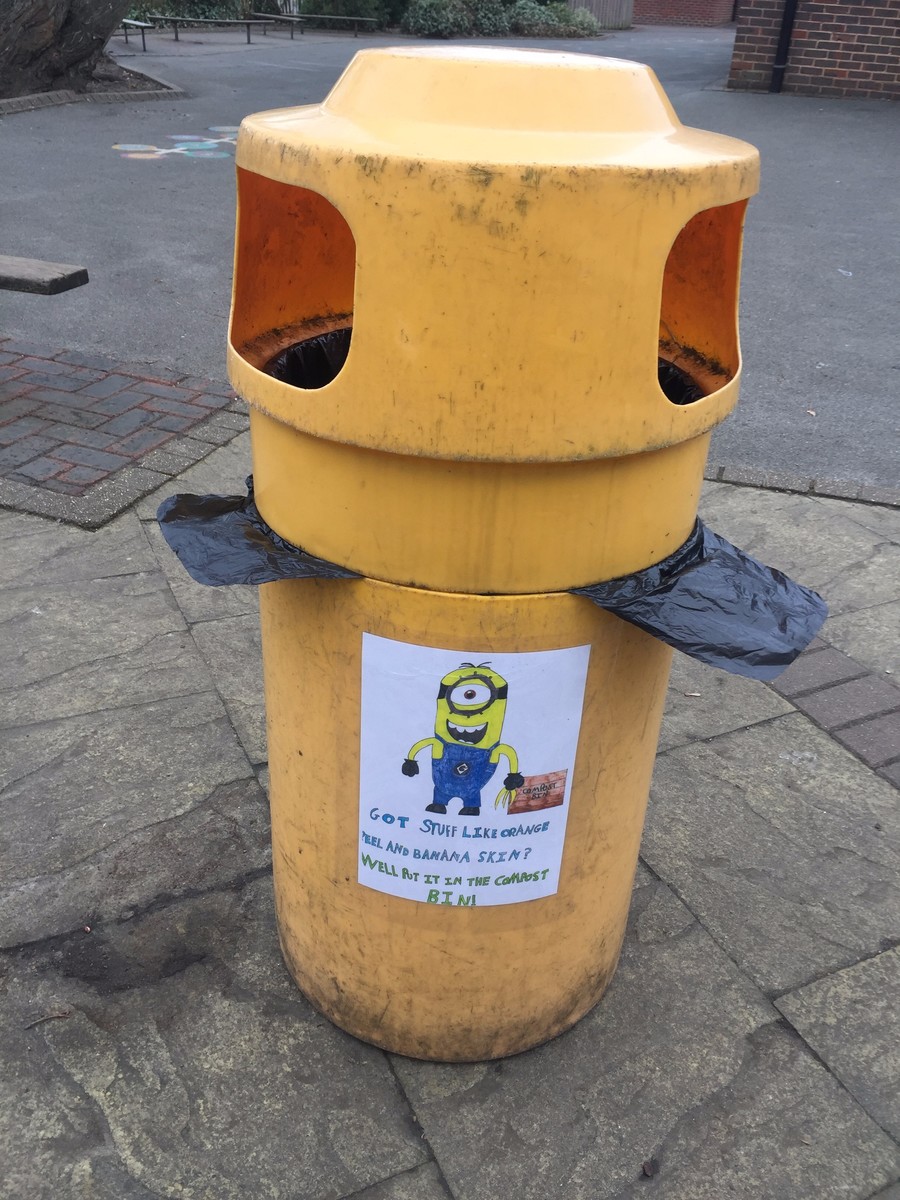 WE ARE HAVING A SPECIAL BIKE SALE...
INFORMATION BELOW:
Green School Awards 2017:
We are extremely honoured to announce that we were awarded the 'Best Environmental School Award' for Maidstone. We were invited to a special awards ceremony held by the KM Charity Team at the Kent County Cricket ground in Canterbury. Miss Lebrette and Mrs Penfold attended the ceremony with Jude (6G) and Jayden (3DG).
Litter Picking in the Local Community:
Our Eco-Councillors have been litter picking in our local community. As a school, it came to our attention that increasing amounts of litter can be found in the small woodland area behind the Grove Green Tesco car park. We want to make a difference in our local community and be proactive in protecting our precious environment.
Last year our Eco-Councillors collected a staggering 48kg of litter in the Grove Green Community!
Dropping litter damages our environment, the appearance of it and most importantly harms habitats. We hope that by cleaning up we will discourage people from dropping litter and in the process educate and deter future generations as a school.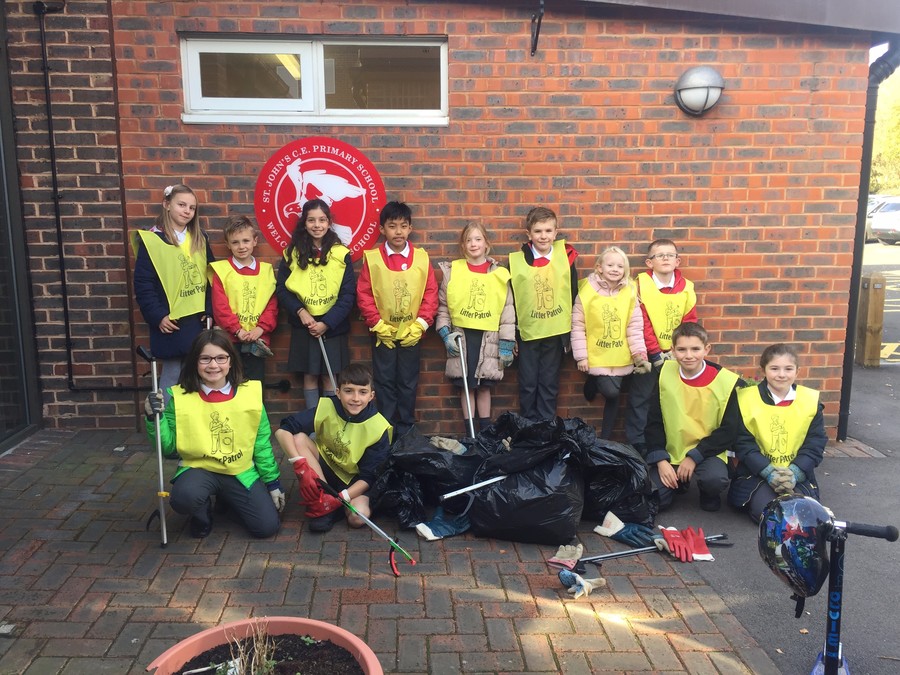 Please send in any used batteries and ink cartridges so that we can recycle them for you. For every recyclable ink cartridge we can raise money for the school and help save the environment! In the New Year we plan to support the Woodland Trust by recycling Christmas cards - more information to follow!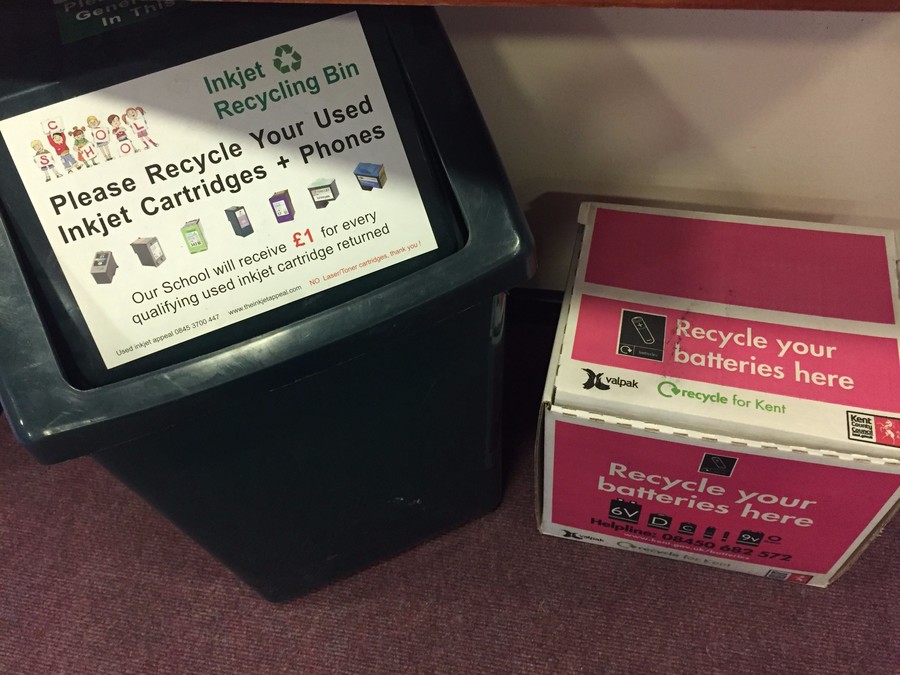 A visit from Maidstone Recycling Centre
This week our Eco-Council met with a member of the Environmental Team at Maidstone Borough Council. We learnt all about recycling in our borough and got to ask lots of questions. Following this, we aim to recycle as much as possible on our next litter pick around Grove Green.
Revamping Recycling!
At St John's we want to revamp the way we recycle. It came to our attention that we are not all sure what should go in our green recycling bins. Our Eco-Councillors decided to hold a competition across KS2. Children were asked to design a poster detailing what we can recycle. Well done to Benji from 5B for creating the winning poster! His poster is now displayed on all recycling bins across the school.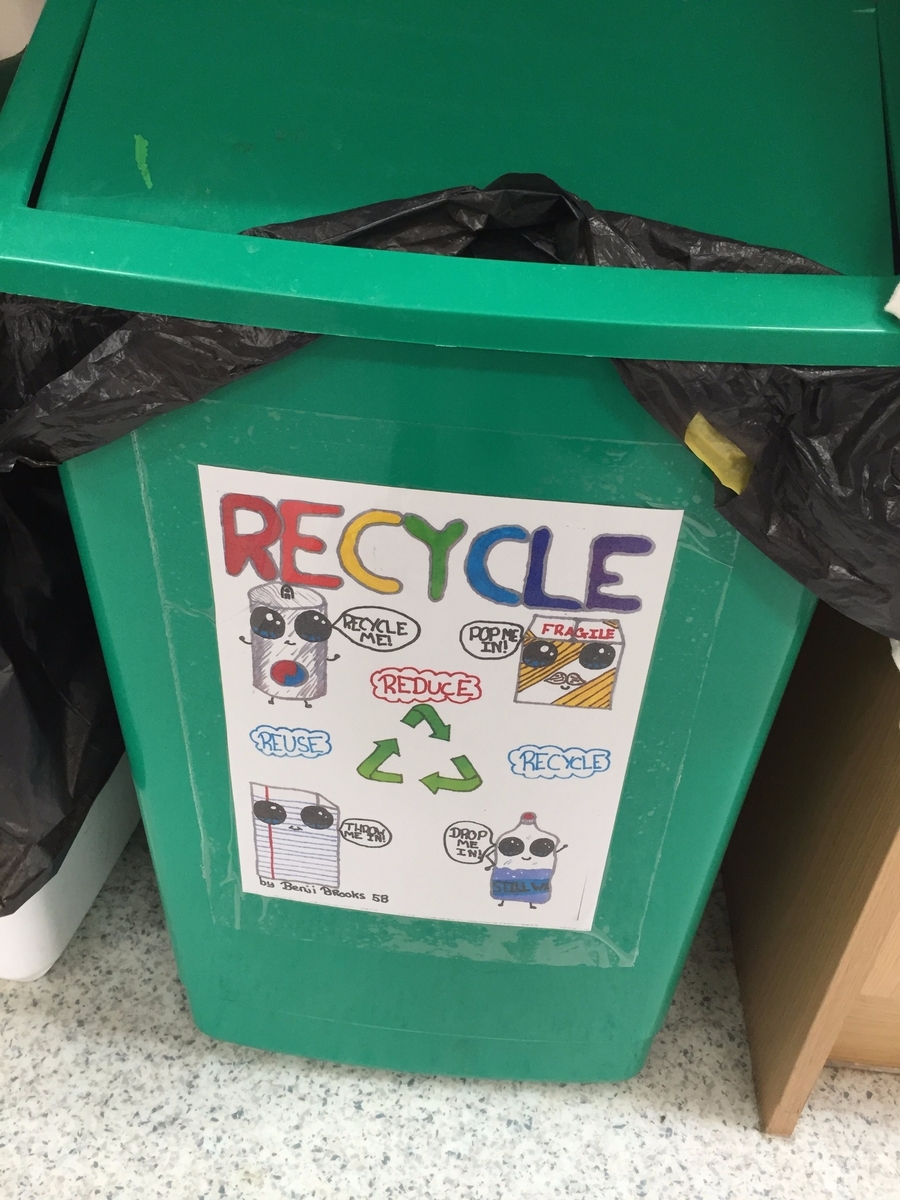 Recycle your old Christmas cards!
As part of our efforts to be a sustainable school, we are supporting the Woodland Trust by taking part in Marks and Spencer's Christmas Card Recycling Scheme. Throughout January the children will be able to recycle their Christmas cards at school by posting them in our designated Christmas Card Bin that will be kept in the school foyer. For every 1000 cards we recycle a new tree will be planted by the Woodland Trust!
Thank you to everyone who recycled their Christmas cards at school, 2.5 large bin sacks were collected.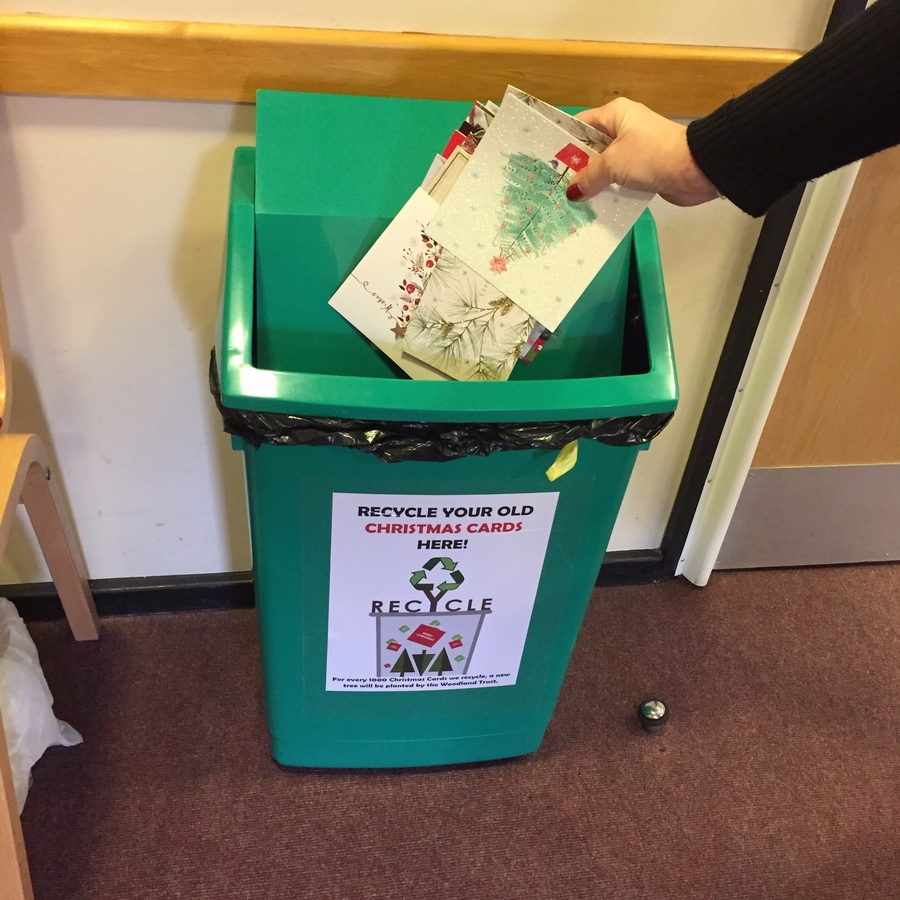 Composting Food Waste Advert Competition
Thank you to all of the children who created an advert for Maidstone Borough Council, we had 41 entries! Congratulations to Rebecca Judd from 4R who has been announced as the runner up!
"Rebecca's design concept really stood out and we felt she deserved recognition for her work" Nicola Toulson, Education Officer.
You can read more about the competition and our runner up here:
http://www.downsmail.co.uk/news_sport/News/Pupils_play_their_part_to_keep_Maidstone_recycling/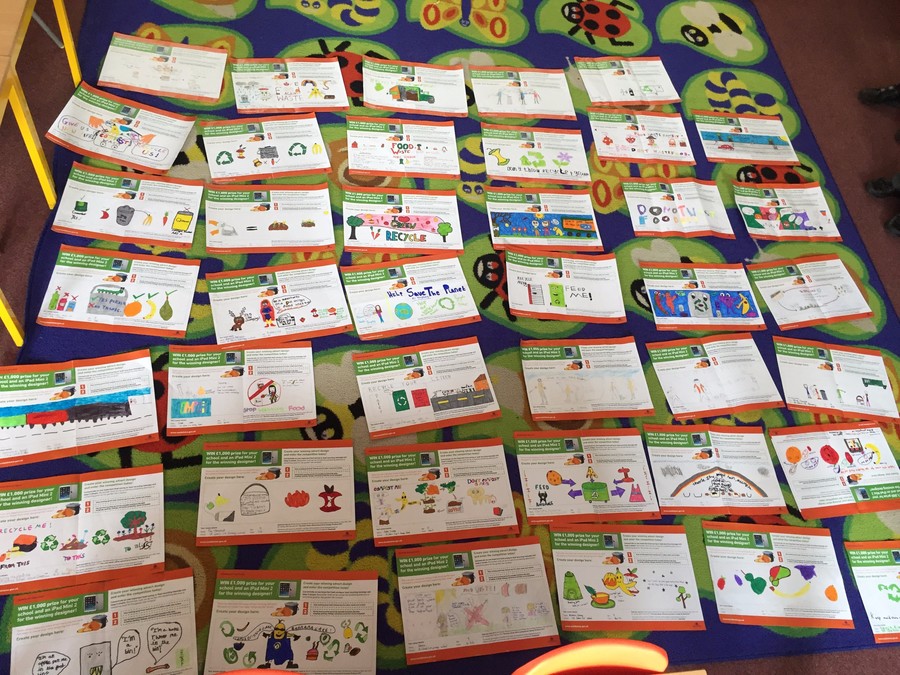 Year Two Energy Experts!
We invited Mr Reumel into school to deliver an interactive workshop, all about energy, to our Year Twos. We learnt where electricity comes from and how it reaches our homes. We pretended to be dinosaurs stamping down the earth thousands of years ago, miners mining for coal, trucks delivering the coal to power stations, turbines working inside power stations and the electricity running from pylon to pylon before it reaches our homes. We used a LOT of our own energy and now recognise how important it is to SWITCH IT OFF!
Mr Reumel works for a company called Interface. Interface are committed to sustainability and care deeply about our environment, just like we do at St John's.
Southern Water 'Waterwise' KS2 Talk
On 11th January 2017, Fergus from Southern Water came to talk to Year 3, 4 and 5. We learned that on average each person uses 150 litres of water a day! Fergus taught us ways to save water at home and at school. He explained how saving water also saves energy and how important it is to be 'Waterwise'.
You can learn how to have a pleasant and water efficient day too - we enjoyed watching this clip produced by Southern Water and think you will too!
AFTERNOON SWITCH-OFF 2017